Quick Draw at the Checkout
Stop fumbling at the checkout counter. Produce exact change quickly with all your coins at your fingertips. Easily open the wallet and smoothly glide coins out of their slots. No more stressful scrambling for coins as impatient customers sigh in line behind you, shaking their heads at your messiness. You always know how much change you have and where it is. Loose change no more – now it is completely organized.
Make the Right Impression
Is it dignified to be seen at a sales counter digging through a messy pile of coins, lint and other pocket detritus? Is it dignified to jingle from loose pocket change when walking? No, it isn't. Positive reactions from fellow patrons and cashiers result from half of our retail transactions in which a coin sorter wallet is deployed.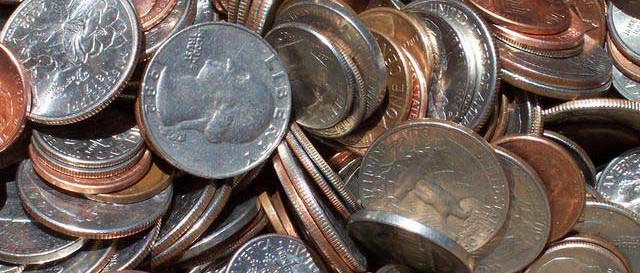 Reduce Your Coin Stockpile
As you give exact change in more transactions, you steadily reduce the number of coins you carry in your pocket or purse. Then you can draw down on your home coin pile, instead of adding to it each night. You reverse the accumulation of coins, reducing one more source of clutter at home.
How the Coin Sorter Wallet Works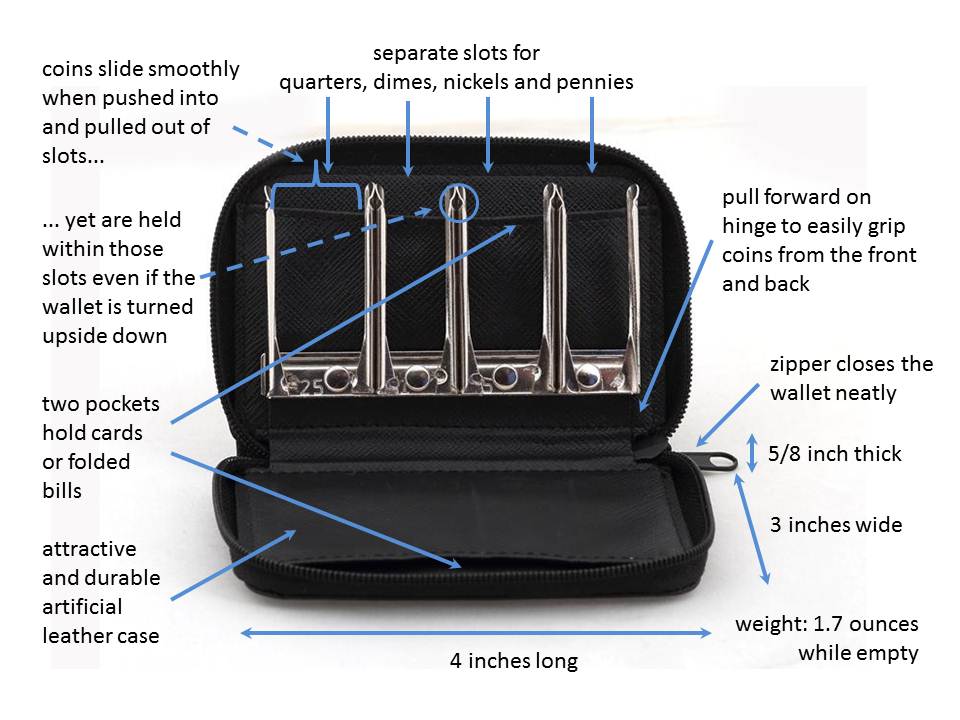 Take a Closer Look at the Coin Sorter Wallet
Click any image to enlarge. Then click left and right arrows to see other enlarged product images.
Frequently Asked Questions about the Coin Sorter Wallet
What materials are used to make the wallet?
The coin sorter contraption is made entirely of steel. The wallet is made of leatherette.
Will the coin sorter hold non-US currency?
No, the Coin Sorter Wallet is designed to fit only United States currency: quarters, dimes, nickels, and pennies. It is sturdy and cannot be adjusted to fit non-US currency. A Euro version is in development.
Will the coin sorter hold half-dollars and dollar coins?
No, the Coin Sorter Wallet only accommodates quarters, dimes, nickels, and pennies.
Is it available in other colors and styles
The Coin Sorter Wallet is available in black, dark brown, light brown, and pink.
Where is this manufactured?
The Coin Sorter Wallet is manufactured in the People's Republic of China.